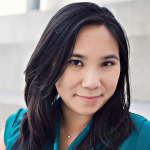 Kim is reported.ly's deputy managing editor. She's also an adjunct instructor at the University of Southern California and co-founder of #wjchat, a weekly Twitter chat for web journalists. Previously, she worked at Digital First Media on the Breaking News team. She has also worked on mobile projects for KPCC, bridging the gap between the editorial side and the technologists. In the past, she's managed KPCC's ongoing commitment to social media and engagement on and off the Web.
She began her career as a reporter for the Kansas City Star and the San Luis Obispo Tribune before moving to online after the creation of a personal blog sparked a passion. Since then, she has focused on new storytelling techniques and technologies that allow readers, users, listeners and audience members to consume media better and in their preferred setting.
She is a member of the local Los Angeles board of the Asian American Journalists Association, and a co-organizer of ONA LA.
Website: http://www.kimbui.com