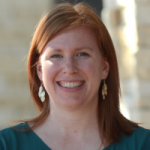 Penny Riordan manages digital content partnerships for GateHouse Media. She works out of the Center for News and Design in Austin.
Since coming to GateHouse in August 2014, Penny has been involved in newsroom digital transformation at many levels. She has developed social media best practices, led corporate trainings and participated in industry trainings and panels. She manages a majority of digital vendor relationships that digital editors use, from rollout to training to best practices. Penny works closely with digital editors in dozens of newsrooms across the country. She has also helped the company focus on metrics, both at the corporate level and newsroom level.
Prior to joining the company, she worked at Patch.com for four years, where she led social media, blogging and UGC efforts for the company. She also launched a Patch site in Maryland.
Penny has also worked as a reporter and editor at newspapers in Maryland and Connecticut. She has a degree in journalism from the University of Maryland at College Park.
Note: Penny is running for the ONA Board of Directors. Learn more about her vision for ONA.
Website: http://www.gatehousenewsroom.com/author/priordan/