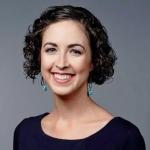 Katie is digital innovation faculty at The Poynter Institute, where she teaches journalists, stays on top of industry trends, and geeks out about newsrooms testing out new and exciting ideas. She is on a quest to prove that newsrooms don't have to be unhappy places.
Katie runs Poynter's Leadership Academy for Women in Digital Media and is one half of the duo behind 40 Better Hours, a project to improve newsroom culture. Prior to Poynter, she was the editor of CNN iReport, the network's global participatory news community.
She publishes a bi-monthly newsletter, The Cohort, dedicated to women kicking ass in digital media. Outside of work, she's perfecting a mean shuffleboard game.
Website: http://poynter.org