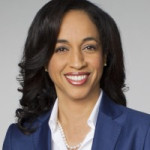 Geraldine Moriba is an executive producer at CNN with original program development and the vice president of diversity and inclusion for CNN Worldwide. She is also an independent filmmaker, director and writer. Her most recent documentary is Until 20, a life-affirming story about how to measure a good life. This feature is the winner of numerous accolades including the Austin Film Festival Marquee Film Audience Award and Excellence in Women's Filmmaking at the European Independent Film Festival.
She was the executive producer of CNN's award winning In America documentary series. She developed and supported the launch of two daily news blogs: The Grio and CNN's In America. At NBC News and MSNBC she was as a senior producer of special town halls, documentaries and election coverage. She worked at NBC News in Standards and Practices and at Dateline. Her awards include five Emmy Awards, an Alfred I. DuPont Award, two Peabody Awards, two RTNDA-Unity Awards, two NABJ First Place Documentary Awards and more. In 2014 Geraldine was the second recipient of the Anita Hill Gender Justice Award and in 2016 she won the Council of Urban Professionals Catalyst Change Agent Award.
Note: Geraldine is running for the ONA Board of Directors. Learn more about her vision for ONA.
Website: http://www.cnn.com/