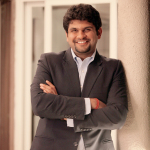 Anant has been passionate about Journalism since an early age. He joined the Express Group in 2012 with two clear objectives: to grow Express' legacy of hard-hitting independent journalism and its reach in both the print and digital medium. Digital quickly emerged as his pet project and over the past four and half years, the Group has grown from 4 million unique visitors to 52 million unique visitors a month.
Express' history of investigative journalism continues with the Panama Papers, Isharat Jahan Witness Tutoring Tapes, Chattisgarh Election Fixing Tapes, Essar Leaks, Dadri Lynching and many more stories that have had a significant impact across the country. Its financial daily, The Financial Express, is also recognised for its pathbreaking reportage on the UB Holdings takeover and its consistent coverage on banking and infrastructure.
GQ magazine says Anant is one of India's 50 most influential young Indians in 2016 and a 2014 profile in Forbes Magazine said Anant exudes the energy that he promises to infuse into the venerable Express brand. Over the past four and half years, indianexpress.com has emerged as India's 2nd largest newspaper website and the Group one of the 4 largest digital news players. Even in regional media, Loksatta – one of Mumbai's largest newspapers – has emerged the largest Marathi website in the country.
Before joining the Express, Anant worked at Spenta Multimedia and at Bloomberg's commercial division at their London office. During his college days, he was a recognised blogger on The Huffington Post and continues to write in The Indian Express -- his recent piece on Punjab drugs was quite popular.
He is a Dean's Scholar in print journalism from the Annenberg School of Journalism, Los Angeles, where for two years he was a teaching assistant for the course History of American News Media and for Entertainment News and Society. He is very passionate about aviation and motoring. He enjoys all kinds of live music, especially modern Jazz, and is a pretty terrible drummer himself.
Website: http://expressgroup.indianexpress.com/